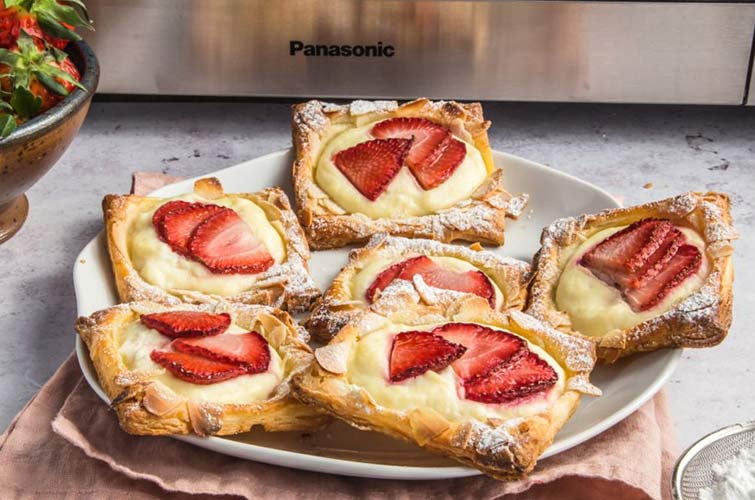 Ingredients
1

Puff pastry packet

1

Egg

1

tsp

Milk
For the Ricotta Filling
1

cup

Ricotta cheese

2

tbsp

Honey

2

tsp

Icing sugar

1

tsp

Vanilla extract

1

Egg
For Garnish
1/2

cup

Sliced strawberries

Sprinkle of icing sugar

to serve.
Instructions
Pre-heat microwave oven to 180C.

Puff pastry dough cut into rectangles, try to make them even.

Place the rectangles on a parchment lined baking sheet. Score each pastry with a sharp knife, about 1/2-inch from the outer edge, all the way around making a rectangle inside the rectangle.

Pierce the centre of each pastry with a fork.

Whisk together the egg and milk and brush the edges of each pastry shell with the egg wash.

In a small bowl combine the ricotta cheese and powdered sugar and egg. Beat with an electric mixer until smooth. Gently fold in the filling with a spatula.

Put the ricotta filling inside the rectangle and add the strawberries.

Bake it for 15-25 minutes or until they puff up and are golden brown. Remove to a rack to cool completely. Once cooled, sprinkle with some icing sugar.