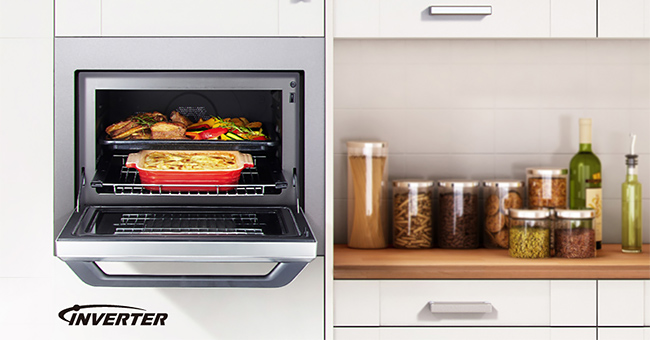 If you hang around these pages long enough, you will see us wax lyrical about the possibilities presented by convection microwave ovens. You've maybe even just skimmed the titles and thought "I use my microwave to reheat leftovers, I don't need to read a whole article about one." Convection microwaves are different and they really are worth exploring.
These clever appliances combine all the quick efficiency of a microwave, with the browning, baking and fan-forced elements of a conventional kitchen oven. Basically they're all-in-one kitchen wizards and prove their worth as space-saving miracles in a tiny kitchen, or as an expansion appliance in a full-gourmet kitchen.
The Smart Choice for Small Spaces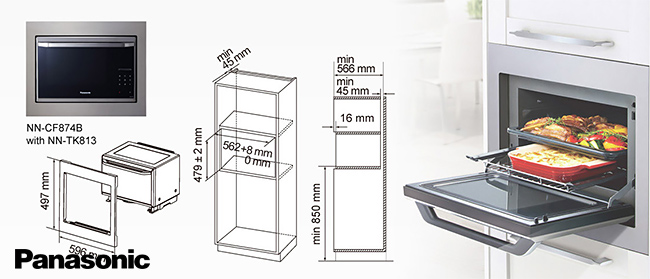 There are some kitchens where you will never be able to fit an oven, a grill and a microwave. Caravans, holiday cabins, studio apartments and tiny houses all tend to have cramped kitchen spaces that require a compromise on appliances. However, a convection microwave can be built into a kitchen cabinet just like a normal oven and then perform all the cooking feats of a full kitchen; from defrosting and reheating, right through to grilling fish, roasting meat or baking cupcakes and slices. No compromise necessary.
A Handy Addition to the Full Gourmet Kitchen

Enthusiastic cooks with large, well-equipped kitchens will find the addition of a convection microwave to be invaluable because it's like having an extra pair of hands (or a second kitchen). Instead of planning a cooking schedule around just the one oven, cooks can have both operating at once. Imagine a meat joint slowly roasting in the main oven for dinner, while the convection microwave is put to work baking a moist cake for dessert. Double-duty appliances means a whole lot less time will be spent in the kitchen and you can turn your dishes out with the timing of a professional chef.
Why Stop at Combining Two Appliances?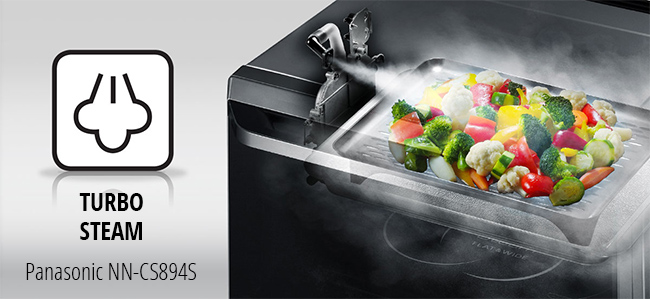 Why, indeed! Here at Panasonic, we took things an exciting step further by adding the power of Turbo Steam to our flagship convection microwave. The Steam Combi Microwave Oven (NN-CS894S) is a multi-tasking wonder that is the epitome of versatility. Whether you're looking to steam fish or vegetables, bake a cake, grill sausages or defrost meat, this clever little number will provide outstanding results.
READ MORE
Trusted Reviews gives top marks to our Steam Combi Microwave NN-CS894S.
Check out the NN-CS894S product page
Check out Panasonic full range of Convection / Grill Microwaves
Take a look out our mouthwatering microwave recipes