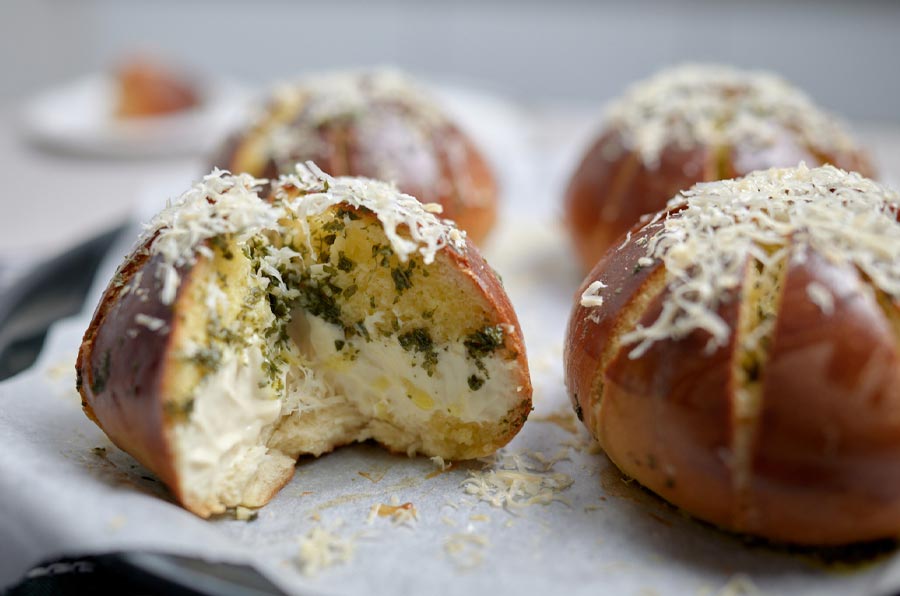 Ingredients
Dough
160

ml

milk

40

g

unsalted butter

melted

1

egg

lightly beaten

7

g

dried active yeast

400

g

bread flour

40

g

caster sugar

7

g

salt
Honey Cream Cheese
300

g

cream cheese

softened

40

g

honey
Garlic Butter
150

g

unsalted butter

80

ml

milk

1

tbsp

garlic

finely chopped

1

tbsp

dried parsley
Topping
1

egg

lightly beaten

20

g

parmesan

grated
Instructions
Make sure the blade is inserted into the bread pan. Place the dough ingredients into the bread pan starting with the milk, butter and egg followed by the dry ingredients. Place the bread pan into the bread maker and close the lid.

Select program 30 (SD-YR2550) or program 29 (SD-R2530), Manual Bread Kneading and press start.

When the machine beeps 8 times press stop. Select program 31 (SD-YR2550) or program 30 (SD-R2530), Manual Rise, dial in 1 hour and press start.

Line the enamel baking tray with non-stick baking paper.

When the machine beeps 8 times, press stop and take the bread pan out of machine. Empty the dough onto a clean work surface. Divide the dough into 4 equal portions. Shape each portion into a ball and place on the prepared enamel baking tray to prove for one hour.

Whilst the dough is proving preheat oven to 170°C Convection.

After proving, brush each roll with egg and bake in the oven for 15 minutes.

Meanwhile, make the honey cream cheese and garlic butter. To make the honey cream cheese, combine the honey and cream cheese in a bowl until smooth. Place into a piping bag and set aside till needed.

To make the garlic butter, combine the butter and milk together in a small saucepan over a medium heat until the butter has melted. Remove from heat and stir in the garlic and parsley. Set aside till needed.

Remove the bread rolls from the oven and reduce temperature down to 140°C Convection.

Cut the bread rolls into 8ths on top of the bread, not all the way to the bottom. Snip the end of the cream cheese piping bag and pipe the cream cheese filling into the cracks of the bread. Place onto a plate and repeat with the remaining rolls and cream cheese filling.

Spoon the garlic butter over the top of the bread rolls making sure they are well covered. Transfer back to the enamel baking tray, top with grated parmesan cheese and bake for a further 10 minutes.

When finished baking, remove from oven and transfer to a wire rack to cool slightly. Best enjoyed warm or at room temperature.