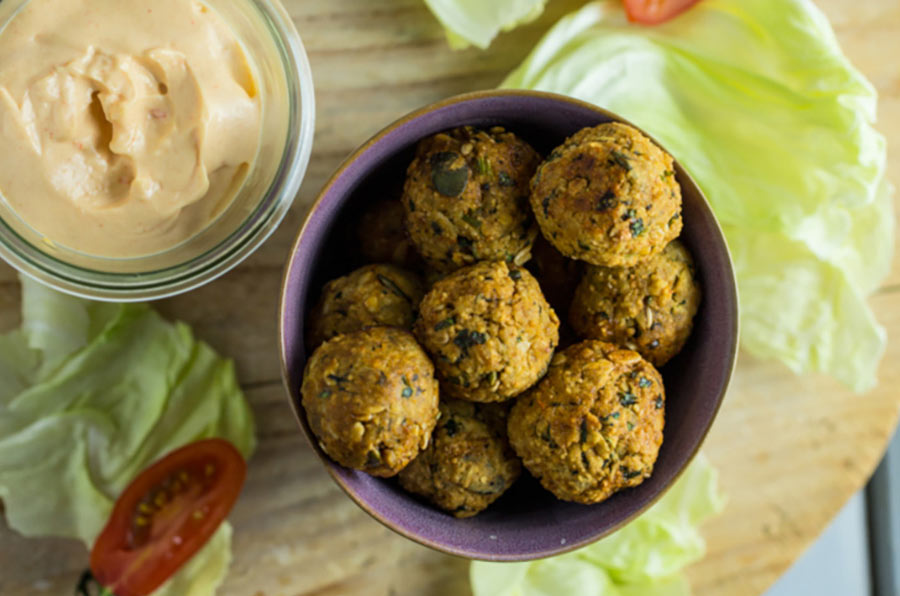 Ingredients
400

g

Cooked Chickpea

20

g

Pumpkin Seed

20

g

Breadcrumb

20

g

Oat Flake

1/2

Clove

Garlic

3

g

Fine Whole Salt

Fresh Parsley

As desired

Coriander

As desired

Fennel Seed

As desired
INGREDIENTS FOR THE SPICY MAYONNAISE
50

ml

Soya Milk

150

ml

Sunflower Seed Oil

6

ml

Extra Virgin Olive Oil

6

ml

Lemon Juice

2

g

Fine Whole Salt

1

tsp

Chili Pepper in Oil

1

tsp

Smoked Paprika

1

g

Garlic
Instructions
Chop the garlic, coriander, parsley and fennel seeds in a food processor, using the blades.

With your hands, form balls of about 3cm in diameter, place them on a baking sheet and brush them one by one with extra virgin olive oil.

Using a combination oven, bake them for 15 mins in Steam + Convection mode at 180°C, then for 10 mins in Convection mode, again at 180°C, and finally for 5 mins using the grill function.

Pour the soya milk, olive oil, lemon juice, garlic, chilli pepper in oil and smoked paprika into a tall glass. Blend with an immersion blender, add salt and carry on blending, pouring in the sunflower seed oil until the mayonnaise forms peaks.