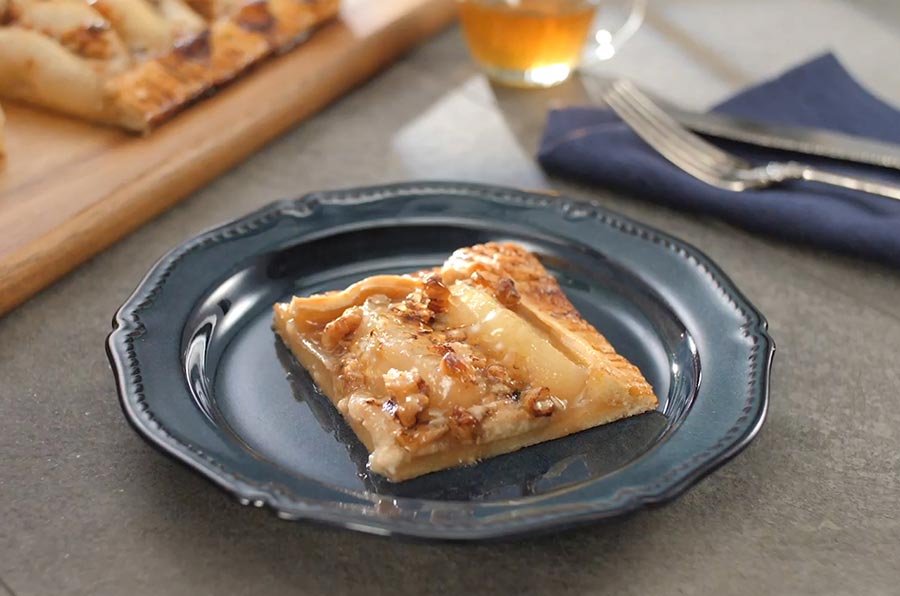 Ingredients
300

g

Pear

(Avoid soft juicy pears, which can make the tart soggy. Firmer pears will give the tart better texture.)

320

g

Ready-made short crust pastry sheet

(Alternatively, a ready-made pie base can be used.)

1

tsp

Gorgonzola Dolce

1

tsp

Honey

1/4

cup

Crushed Walnuts
Instructions
Peel the pears, and cut each one length wise into 8 pieces. (Note: If possible, marinade the pieces in 1 tbsp of rum.)

Roll out the pastry and trim into a square. Spread over a baking sheet. Prick all over with a fork, except for near the edges. Arrange the pear pieces on the pastry sheet, and scatter the Gorgonzola in the spaces between them.

Fold over the edges of the pastry sheet to make a crust. Crimp the edges with a fork.

Swirl honey over the pears and Gorgonzola, then sprinkle with crushed walnuts.

Put the glass tray on the wire shelf, and put the baking sheet on the tray.

Slot the shelf into the middle shelf position, and cook on Combi 5 for about 13 minutes.