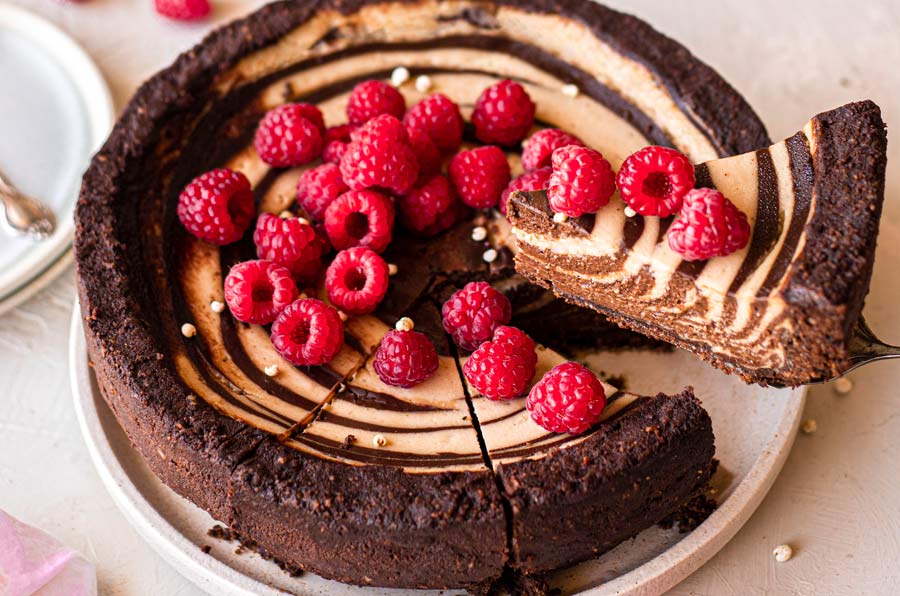 Vegan Zebra Cheesecake
2020-03-22 23:00:27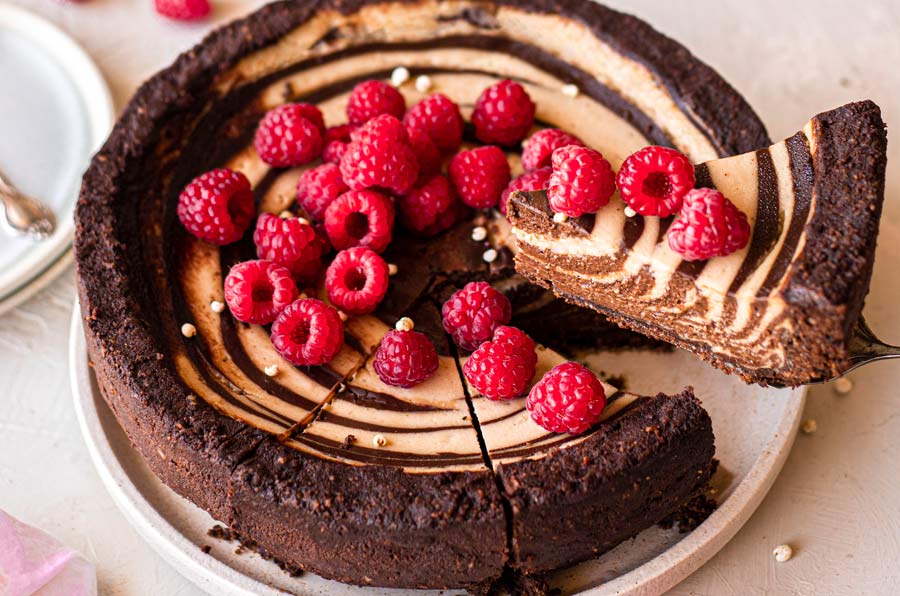 We already knew the cake mode in our new
SR-CN188WST Rice Cooker
worked well for a variety of cakes, but Anthea's Vegan Zebra Cheesecake recipe had us salivating, and really opened our eyes to what is possible with a little bit of creativity!
For the crust
400g Vegan choc cookies
100mL Softened coconut oil or vegan butter
For the Cheesecake
300g Silken tofu
300g Vegan cream cheese
200g Coconut yoghurt, or vegan yoghurt of choice
100mL Maple syrup
Pinch of salt
150g Vegan dark chocolate, melted + dash of water
150g Vegan white chocolate, melted + dash of vanilla extract
Crust
Add the cookies to a food processor. Process till small crumbs. Add the oil/butter and process till combined.
Add two strips of baking paper to your rice cooker tin.
Press the cookie mixture against the bottom and sides to form a crust. If the mixture falls apart, refrigerate it and try again.
Cheesecake
Add the tofu, cream cheese, yoghurt, maple syrup and salt to the food processor. Process until smooth.
Separate the filling into two bowls. Mix the dark chocolate and water into one bowl. Mix the white chocolate and vanilla into the other.
Assemble: Dollop 1 large spoonful of the white batter in the middle of the crust. Dollop 1 large spoonful of the brown batter on top. Repeat. Tap the tin a few times if your batter is thick.
Cook the cheesecake in your rice cooker with the 'cake/bread' setting for 65 minutes.
Let the cheesecake sit covered for 2 hours. Open the lid and sit for another 2 hours. Chill the cheesecake overnight.
To remove the cheesecake from the tin, run the sides under warm water and pull out.
Adapted from Rainbow Nourishments
The Ideas Kitchen https://www.theideaskitchen.com.au/