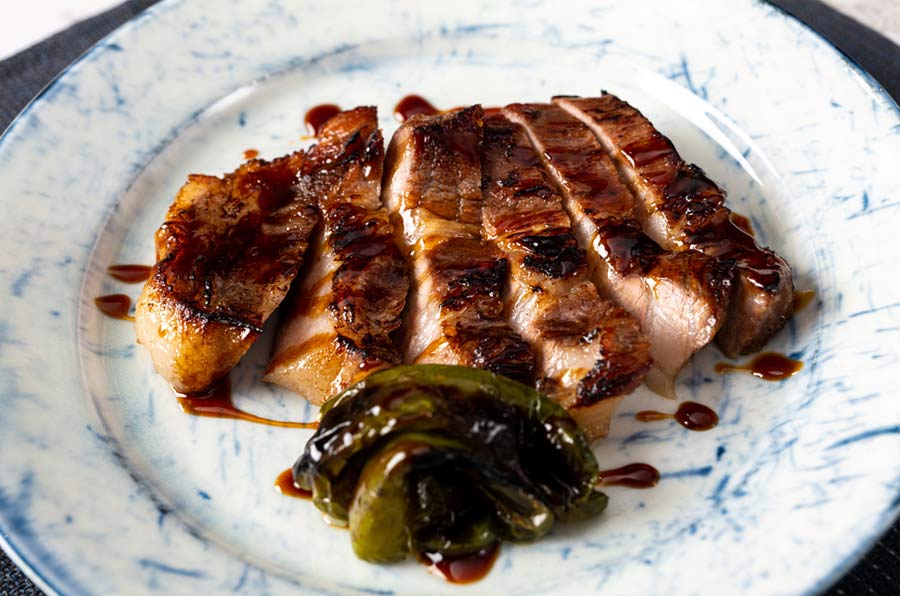 Ingredients
800

g

Pork shoulder/loin

20

g

Grated fresh ginger

120

g

Soy sauce

120

g

Mirin

sweet sake

20

g

Sugar

10

g

Japanese sake

200

g

Green capsicum
Instructions
Cut pork into 200g pieces.

Cut green capsicum in half and remove pith and seeds. Score capsicum lightly.

Put soy sauce, mirin (sweet sake), Japanese sake and grated fresh ginger into a bowl, and marinate items from steps 1 and 2 for 30 minutes.

Put all ingredients from step 3 on the supplied glass shelf, place on the middle rack, and cook for 10 minutes on 'convection oven' 230°C + 'Microwave' 300W.

Turn meat over and cook for another 10 minutes.

As a finishing touch, cook on 'convection' 230°C + 'Grill 1' for 3 minutes until it is browned.

Place the ingredients from step 6 on a serving platter. Reduce meat juices in a separate pot and pour over meat before serving.