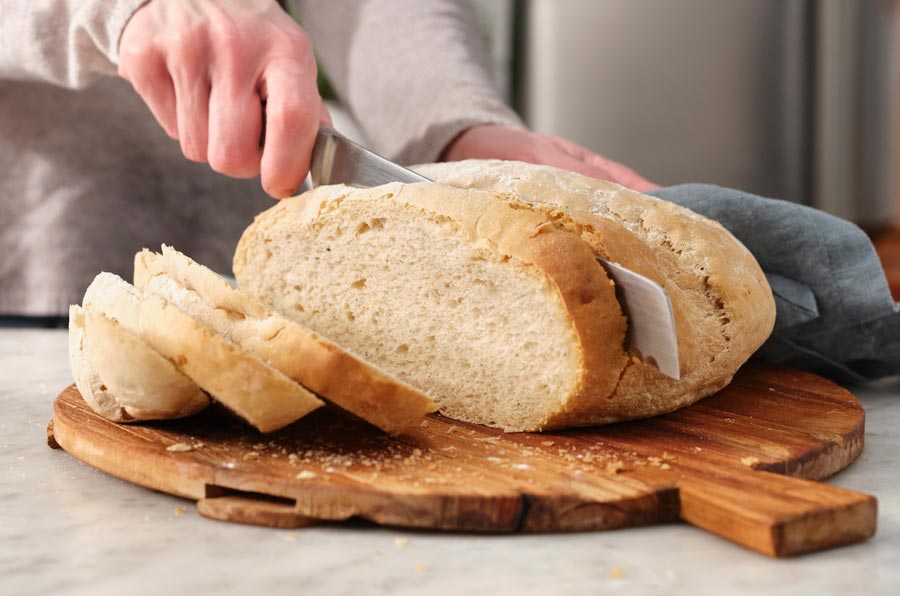 Ingredients
1

tbsp

dried yeast

300

ml

lukewarm water

1

sprig rosemary

1

sprig thyme

500

g

wheat flour

1

tbsp

salt

1

tbsp

wheat flour
Instructions
Mix the dried yeast thoroughly in a small bowl with 40 ml lukewarm water, then leave to stand for approx. 15 minutes.

Meanwhile, wash the rosemary and thyme, shake it dry, tear the needles and leaves from their stalks and chop finely.

Prepare the automatic bread maker by taking the bread pan out of the appliance and inserting the kneading blade.

Put the flour, salt, yeast mixture, chopped herbs and the rest of the water in the bread pan. Reinsert the bread pan into the appliance and close the lid.

Select the "Bread kneading" programme (SD-YR2550 Program 30 , SD-R2530 Program 29), enter a kneading time of 20 minutes and press "Start".

Then select programme "Rise" (SD-YR2550 Program 31 , SD-R2530 Program 30), set the rising time to 1 1/2 hours and press "Start".

Once the program is finished, take the dough out of the bread pan and, with moist hands, form it into a round loaf, turning the dough downwards. Place the dough onto an oven tray and cover it with a clean kitchen towel.

Let the dough now rise on the oven tray in a warm place for around 40min – 60min (depending on your room temperature).

To pre-heat the Panasonic steam oven, select the "Combi 3" program and press "Start".

Dust the loaf with a little flour then make 3–4 shallow cuts in the surface with a sharp knife. When the oven makes a beep to signal that pre-heating is complete, slide the enamel tray into the bottom slot. Select the "Combi 3" program again (steam + hot air at 190 °C), set the time to 30 minutes and press "Start".

When the time is up, set it manually for another 10 minutes, then press "Start" again. Once the program has finished, take the loaf out and leave it to cool on a wire grid.
Notes
Alternatively, the bread can be baked in a conventional oven. Preheat the oven to 230 °C (top/bottom heat). Place an ovenproof dish with water directly in the oven. Then place the bread in the middle of the oven and bake for 35-40 minutes until golden brown.
Nutrition
Calories:
1.788
kcal
|
Carbohydrates:
371
g
|
Protein:
57
g
|
Fat:
6
g
|
Sodium:
3.91
mg
|
Sugar:
7
g