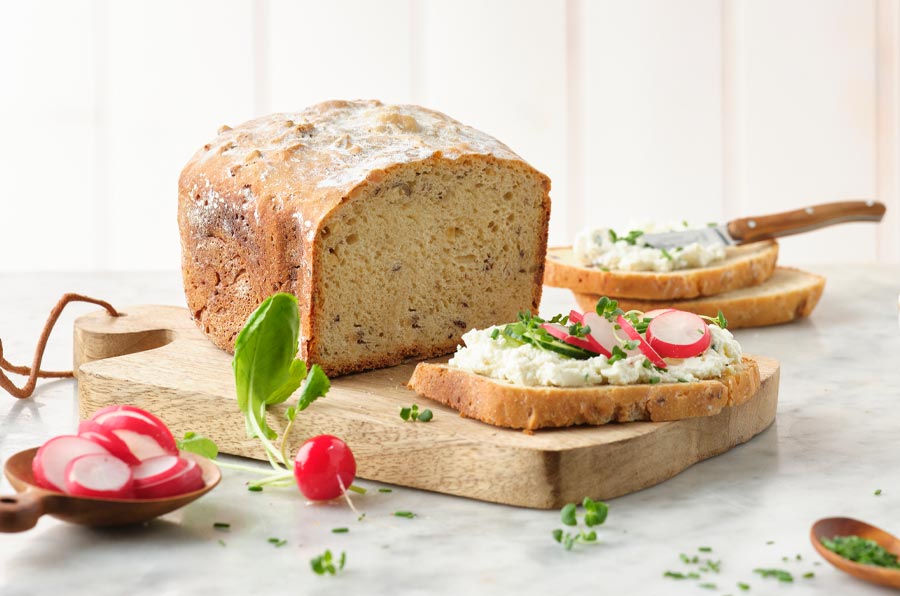 Ingredients
2

tsp

dried yeast

200

ml

lukewarm water

1

tsp

sugar

80

g

hazelnuts

150

g

spelt flour

350

g

spelt flour

150

g

ricotta

3/4

tbsp

salt

1

tbsp

olive oil

1

tbsp

spelt flour
Instructions
Measure out the dried yeast with the Panasonic measuring spoon and mix thoroughly with the water and sugar in a small bowl.

Chop the hazelnuts finely and toast them in a dry non-stick pan until golden. Transfer them to a plate and leave to cool down.

Prepare the automatic bread maker by taking the bread pan out of the appliance and inserting the kneading blade.

Put both types of flour, ricotta and salt into the pan. Measure out the olive oil using the Panasonic measuring spoon and add to the pan along with the yeast mixture.

Insert the filled bread pan into the appliance and close the lid. Open the compartment of the raisin and nut dispenser. Put the roasted hazelnuts inside it, then close the feed-in flap.

Set the appliance to the bread programme called "basic stuffed" (SD-YR2550, SD-R2530 Auto Program 4), size "XL" and Crust "Dark" option, then press "Start".

Optional: 30 minutes before the end of the program, open the lid, dust the loaf carefully with a bit of flour, close the lid and bake the loaf until it is done.

After the program is finished, open the lid and take out the bread pan. Remove the loaf from the pan and leave to cool. Before slicing, remove the kneading blade from the loaf.