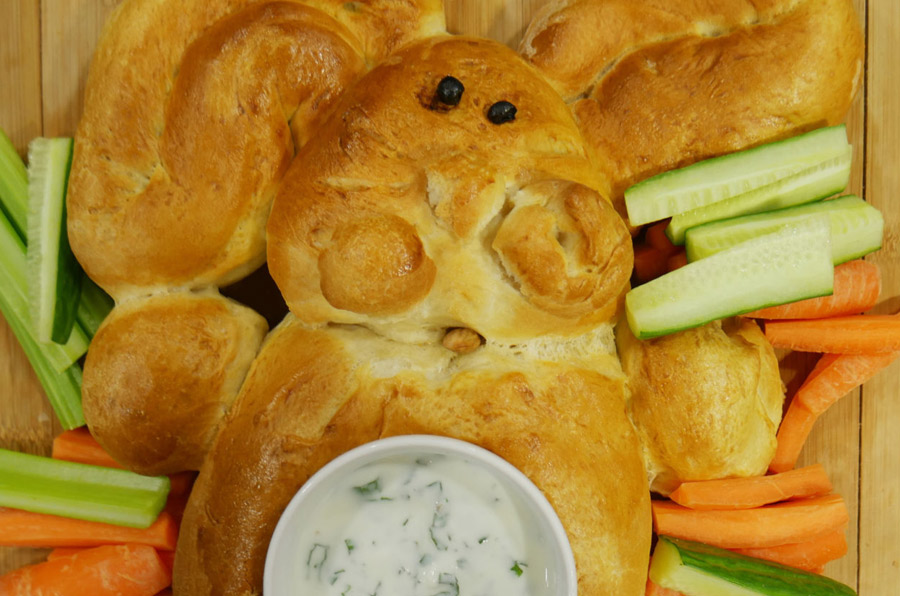 Ingredients
For the Dough
1.25

tsp

Yeast

600

g

Strong white bread flour

2

tsp

Sugar

2

tbsp

Oil

1.5

tsp

Salt

350

ml

Water
To Decorate
2

Raisins

For the eyes

2

Almonds

For the teeth

1

Egg

Lightly beaten to glaze
Instructions
Place all of the dough ingredients into the bread pan in the order listed above. Select the basic dough program 2 hours 20 mins.

Tip the dough out on to a lightly floured surface. Cut the dough into two equal halves.

Take one of the halves and cut ¼ off and shape into a pear shape for the head. Flatten the remaining portion into an oval shape to make the body. Place on a greased baking sheet and place the head above the body.

Make narrow cuts, about 3/4 inch deep on each side of the head for the whiskers.

Cut the second half into 4 equal portions. For the ears: shape 2 of the portions into 16 inch ropes, fold ropes in half, Arrange ears with open end touching the head.

For the back paws: cut a third portion of dough in half, shape each into a 3 ½ inch oval for back paws. Cut two 1 inch slits on top edge for toes. Position on each side of the body.

For the front paws: Divide the fourth portion of dough into three pieces. Shape two pieces into two ½ inch balls and place on each side of the body.

Shape the remaining piece into two 1 inch balls for cheeks, and 1 ½ inch ball for the nose and place on the face. Add the raisins for the eyes and almonds for the teeth.

Cover with lightly oiled cling film and leave to rise in a warm place until doubled, about 30-45 minutes.

Brush dough with egg. Bake at 180°C for 25-30 minutes or until golden brown. Remove to a wire rack to cool.

Place bread on a serving tray. Cut a 3 ½ inch circle in centre of body. Hollow out bread, leaving a ½ inch shell (discard removed bread or save for another use). Place a 1-cup shallow bowl in the hole and fill with dip. Serve with fresh raw vegetables.