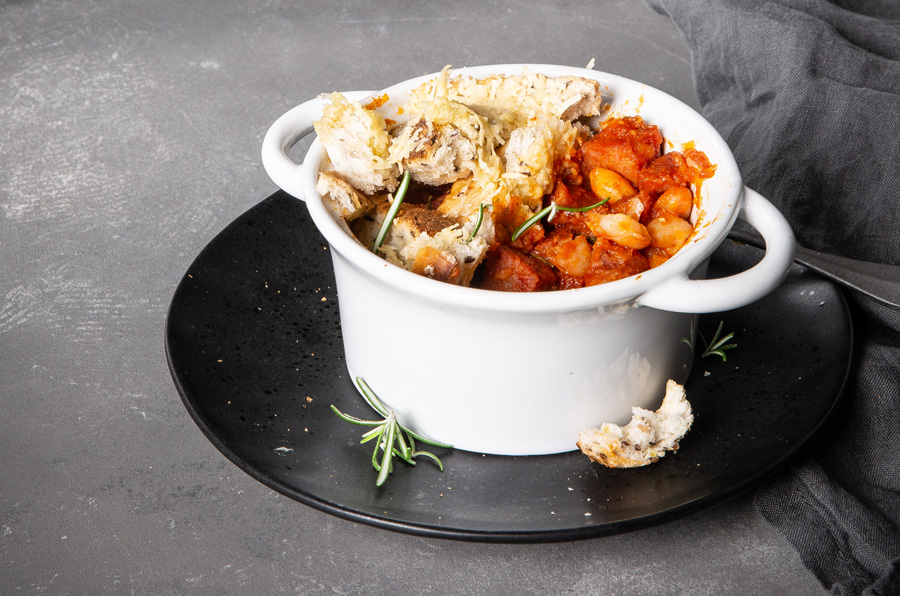 Ingredients
Half of a chorizo sausage

diced.

¼

of a cup of canned

cooked cannellini beans (drained and rinsed)

½

a tsp of chopped fresh rosemary

you can use dried if preferred

½

a tsp of smokey paprika

1/3

of a cup of tomato passata

1

tsp

of maple syrup

1

slice

of bread of your choice

buttered

1

tbsp

of grated parmesan cheese
Instructions
Grease a deep, single serve ramekin (the one pictured is 12cm diameter x 6cm deep), and add the chorizo sausage.

Cover the ramekin with a sheet of paper towel and put it into the microwave. Press the 'Micro Power/ button once to set the power to 1000 watts, set the timer to 1 minute and press start.

Add the cannellini beans, rosemary, smokey paprika, passata and maple syrup. Stir well, and put back into the microwave at 1000 watts for 1.30 (/90 seconds).

Remove from the microwave, stir well, and put back in at 1000 watts for a further 1.30 (/90 seconds).

Remove from the microwave and season with salt and pepper.

Tear the buttered bread and arrange over the top of the bean mixture, butter side up where possible, before sprinkling with parmesan cheese.

Return to the microwave (uncovered) and press 'Grill' once to get the 'Grill 1' setting. Cook in 1-minute intervals, for 3-5 minutes (this will depend on the height and size of your ramekin), checking each minute to see if you'd like it more toasted.

Remove and serve immediately.