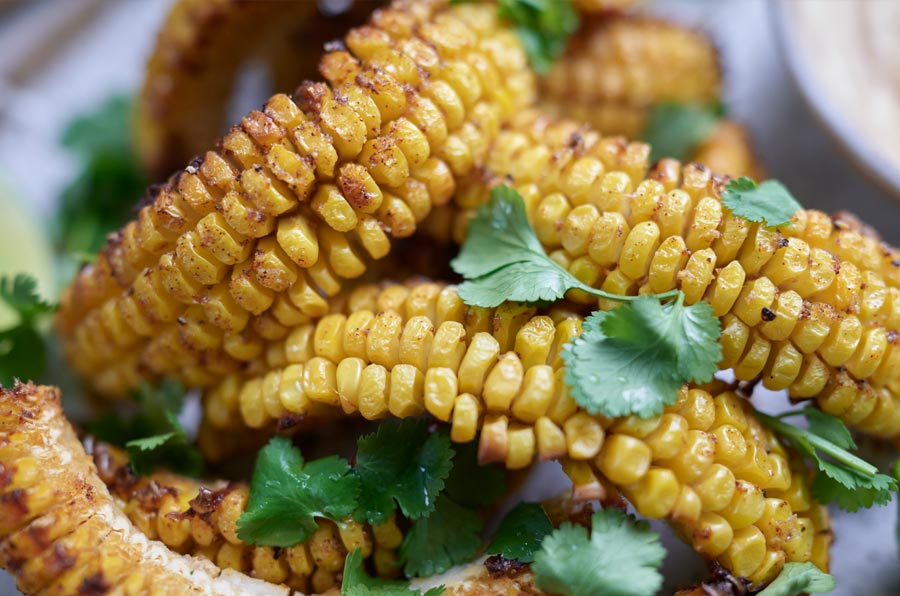 Ingredients
3

corn on the cob

2

tbs

extra virgin olive oil

¾

tsp

smoked paprika

¾

tsp

garlic powder

Sea salt

Cracked black pepper
Sriracha Mayonnaise
1

cup

whole egg mayonnaise

1

tbs

sriracha hot sauce
To Serve
Lime wedges

Coriander leaves
Instructions
Preheat the oven by pressing the "Convection" button until you reach 190°C, and press the start button twice.

Stand a corn cob up vertically on a chopping board. With a sharp knife chop it in half, and chop those halves in half again.

In a small bowl, combine the oil, smoked paprika, garlic powder and season with salt and pepper.

Place the wire rack on top of the enamel tray. Spread the corn ribs in an even layer on top of the wire rack. Brush corn with spiced oil.

Once the oven is up to temperature, place the enamel tray and wire rack into the oven. Set time for 30 minutes and press start.

Meanwhile make the sriracha mayo by combining the mayonnaise and sriracha hot sauce together. Set aside till ready to serve.

When the corn ribs are cooked, place them on a serving tray. Serve with sriracha mayonnaise, coriander leaves and lime wedges.