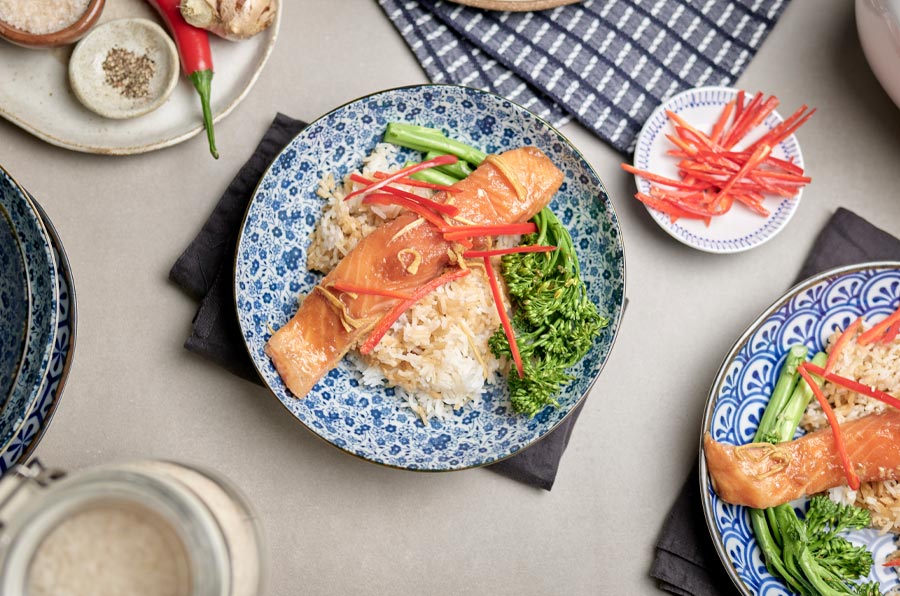 Ingredients
2

cups

jasmine rice

4

x140 g

salmon fillets

skin off

1

bunch

broccolini

60

ml

maple syrup

60

ml

light soy sauce

1

garlic clove

minced

thumb-sized piece ginger

peeled and cut into matchsticks

1

red chilli

deseeded and cut into matchsticks
Instructions
In a large bowl, combine the maple syrup, light soy sauce, garlic clove and ginger. Add the salmon fillets and toss through to combine. Set aside at room temperature to marinate.

Place rice in the inner pan. Wash 2-3 times and fill inner pan with water level Mark 2 for Jasmine Rice. Place the inner pan into the rice cooker and close the lid. Select Menu 'Jasmine Rice' and press start.

Place the Steaming Basket on a plate. Arrange the salmon fillets in the basket, reserving the marinade. Top salmon with broccolini. When the rice cooker flashes up remaining time, usually around 20 minutes after pressing start, add the basket into the rice cooker, pour over reserved marinade and close the lid.

When the rice cooker beeps, remove the steaming basket and place it on a clean plate to collect any juices. Use the Rice Scoop to fluff up the rice.

Divide the rice between 4 bowls. Divide the broccolini between the bowls and top each with a fillet of salmon and some chilli. Drizzle over any extra juices collected on the plate.