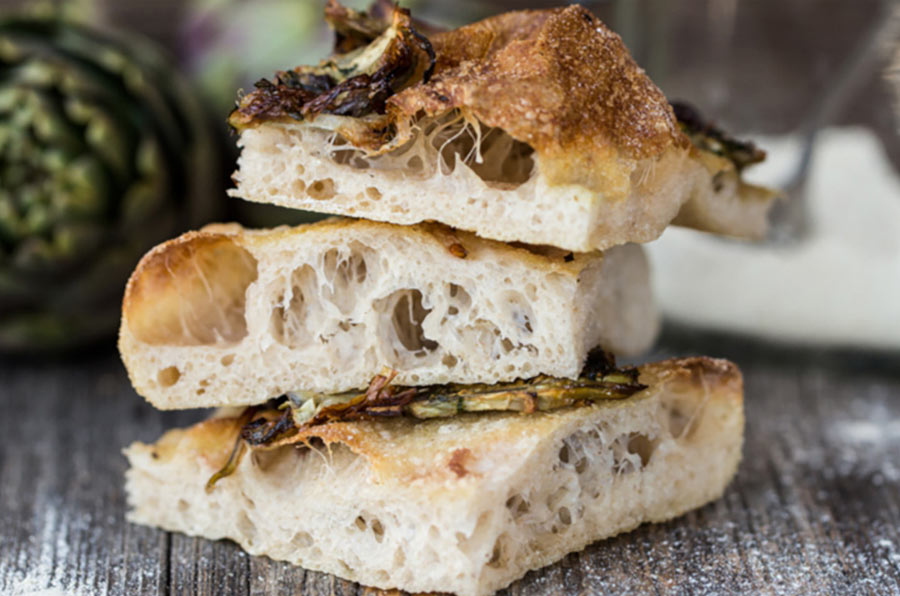 Ingredients
700

g

Type 1 Flour

200

g

Sourdough

460

g

Water

13

g

Salt

3

Artichoke

100

g

Taggiasca Olive
Instructions
Start by preparing the sourdough to make sure the focaccia rises beautifully! When you decide to make your focaccia, you need to refresh the sourdough at least 4 hrs before preparing the dough. Refresh the sourdough by whatever means you think best (for this recipe I used a liquid refresher) and leave the sourdough to ripen for 4 hrs at 19°C (if you can, leave it for 6).

Mix the sourdough, water and flour together in the bread maker, set it to programme 32 (for pizza) and let it work the mixture for 10 mins, then add salt and let the programme run to the end.

Remove the mixture from the bread machine and knead it with the stretch and fold technique, on a marble worktop, until it is perfectly smooth, then let it rise in a large bowl covered with a lid but leaving a small air gap (to allow the mixture to breathe as it produces CO2). Let it rise for 3 hrs at 19°C, then put it in the fridge for 12 hrs.

Remove the mixture from the fridge and place it on the well-floured marble worktop. Divide it into two portions and knead it without deflating it (the aim is to give it a rectangular shape that will fit into the baking pans).

Oil the glass oven dish and the conventional steel pan and delicately lay the kneaded mixture in them. Spreading your fingers, press them into the dough to create small indentations all over the surface of the focaccia, then season.

Quickly prepare some sautéed artichokes and scatter them at random over the focaccias together with the olives.

Add a drizzle of extra virgin olive oil and bake one at a time in the preheated oven at 250°C for 20 mins.