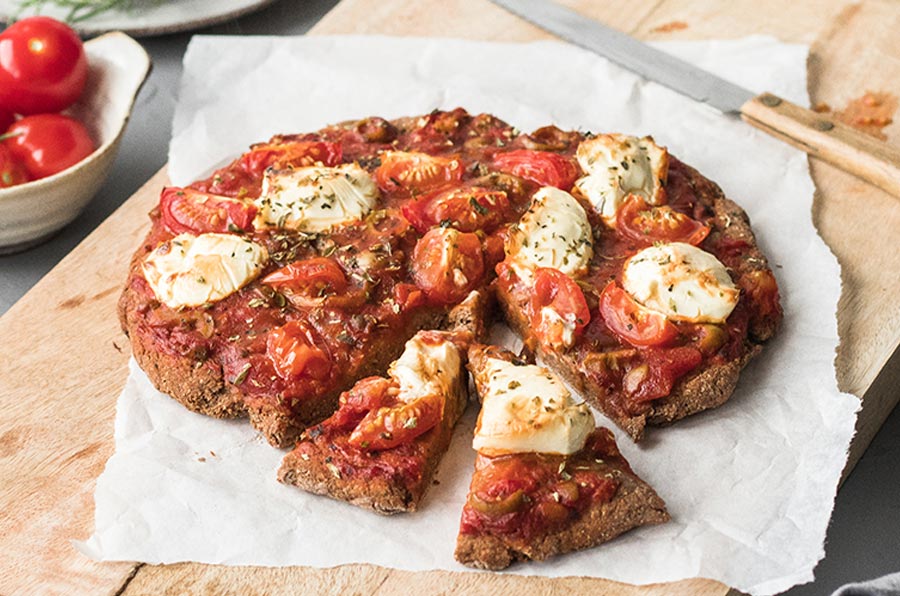 Ingredients
170

ml

lukewarm water

2 ¼

tsp

dry yeast

1 packet

2

tbsp

xylitol

100

g

chickpea flour

110

g

teff flour

30

g

corn starch

20

g

potato starch

1

tbsp

baking powder

1

tbsp

dried herbs

1

tsp

salt

1

tbsp

psyllium husks

1/2

tbsp

xanthan gum
Instructions
Mix the dry yeast with xylitol and 50 ml of lukewarm water.

Pour the dry ingredients into the bread pan one by one and mix them roughly with a spatula.

Add the yeast mixture and the remaining 120ml of lukewarm water and mix roughly again.

Close the Bread Maker and select Program 14 for gluten-free bread.

When the cycle is complete, remove the dough from the bowl and knead it on a floury surface to form approximately two pizza bases, depending on your desired base thickness.

Preheat convection oven to 200°C.

Roll out the dough to form two bases and transfer to tray lined with baking paper.

Add your preferred pizza sauce and favourite toppings.

Bake for 15-20 minutes, depending on the thickness of your base and what consistency is desired.