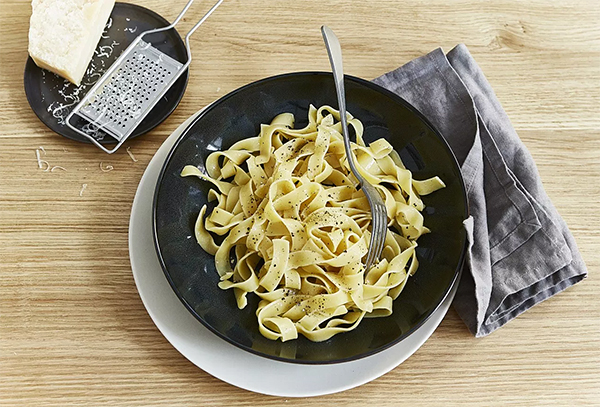 Ingredients
200

g

Plain Wheat Flour

Plus extra flour for dusting

200

g

Semolina

4

Egg
Instructions
Remove the baking tin from the machine with a clockwise rotating movement. Insert the dough hook in the tin.

Add the flour, semolina and eggs. Place the baking tin back in the bread maker and close the lid.

After 20 minutes, once the device has beeped 8 times to signal that the program has finished, open the lid and remove the baking tin.

Place the dough on a work surface that has been dusted with flour. Knead until it forms a smooth dough.

Wrap in cling film and beat, then leave to rest at room temperature for 1-2 hours.

Press the dough out flat using your hands and roll out thinly using a pasta machine up on a thin ish setting. Cut with the pasta machine's tagliatelle cutter. Dust the fresh pasta with a little bit of flour to prevent it from sticking together.

Bring a large pan of water to the boil, add salt and cook the pasta for approx. 3 minutes until al dente.