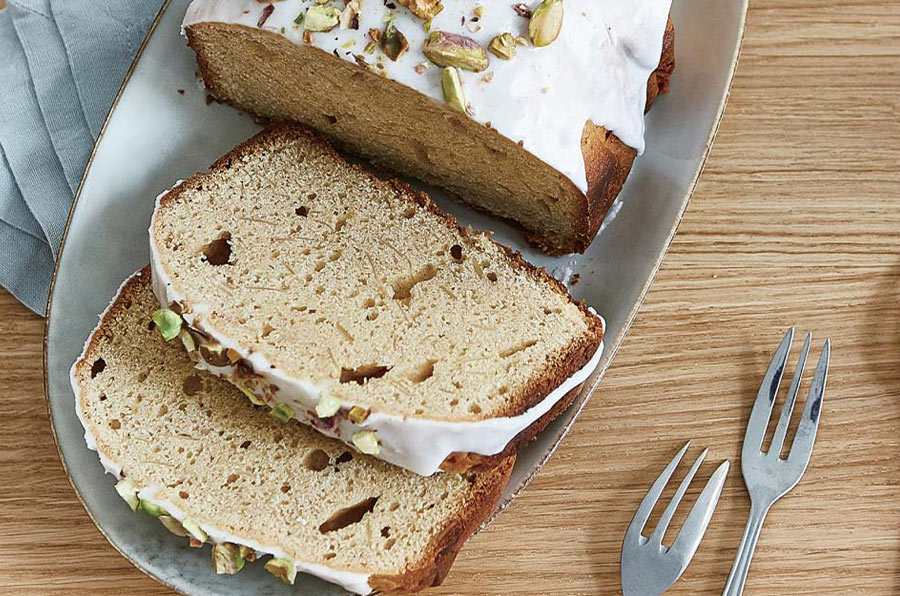 Ingredients
120

g

Soft Butter

200

g

Brown Sugar

3

Eggs

230

g

Sour Cream

2

tsp

Orange Zest

finely grated

200

g

Plain Flour

1

tsp

Baking Powder

2

tsp

Ground Cardamom

1

tsp

Ground Cinnamon

1/2

tsp

Salt

2

tbsp

Flaked Almond

1

tbsp

Freshly Squeezed Lemon Juice

3

tbsp

Chopped Pistachio
Instructions
Beat butter and sugar with a whisk or food processor until fluffy. Gradually stir in 2 eggs. Then stir in the sour cream and orange zest.

In a separate bowl, mix together the flour, baking powder, cardamom, cinnamon, salt and almonds. Add the flour mixture to the batter and stir.

Line the bread pan with parchment paper. Add the batter to the bread pan and place in the bread maker. Select menu 18 and set to bake for 60 mins. Close the lid and start the baking process by pressing start.

As soon as the machine beeps eight times, open the lid and remove the bread pan. Remove the cake with the parchment paper and leave to cool.

In the meantime, separate the egg for the icing. Stir the egg white with the icing sugar and lemon juice until smooth. Carefully remove the parchment paper from the cake and place the cake on a plate. Decorate the cake with the icing using a spoon and garnish with pistachios.