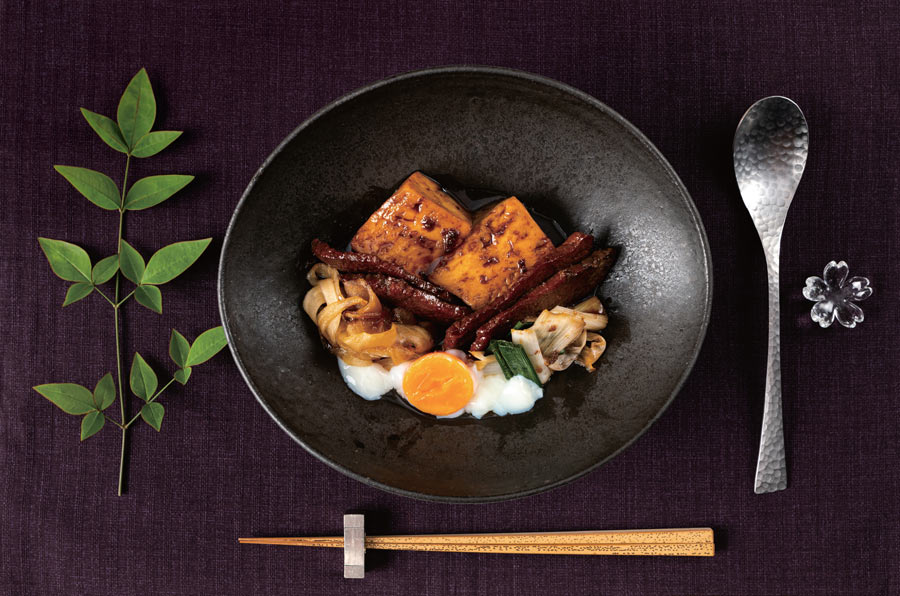 Ingredients
350

g

Beef loin

80

g

Onion

80

g

White leeks

200

g

Tofu

110

g

Shiitake mushrooms

225

g

Mirin

sweet sake

120

g

Soy sauce

60

g

Japanese sake

22

g

Sugar

4

Eggs
Instructions
Make the poached eggs for sukiyaki with the NN-CD87KS Microwave oven. Place the eggs on a metal tray and cook for 30 minutes on 'Steam 3' on the lower rack.

Cut beef into 5mm slices and then cut small notches (to make it easier to eat and to promote better absorption of flavours).

Cut white leeks into 3cm widths and halve lengthways. Cut the tops and stems of the shiitake mushrooms, then cut the tops in half and cut the stems into quarters. Cut the onion in half, then slice. Cut the tofu into 5cm squares.

In a pot, add soy sauce, mirin (sweet sake), Japanese sake and sugar and heat to evaporate the alcohol (once heated, boil for about 2 minutes on low heat).

Coat the metal tray with olive oil. Scatter step 2, 3 onto the metal tray, and pour the mixture from step 4. Cook on the wire rack for 12 minutes at 'Convection' 220°C and then turn the meat over and cook on 'Convection' 220°C for an additional 5 minutes.

Remove the metal tray, and put the poached eggs on top to finish.