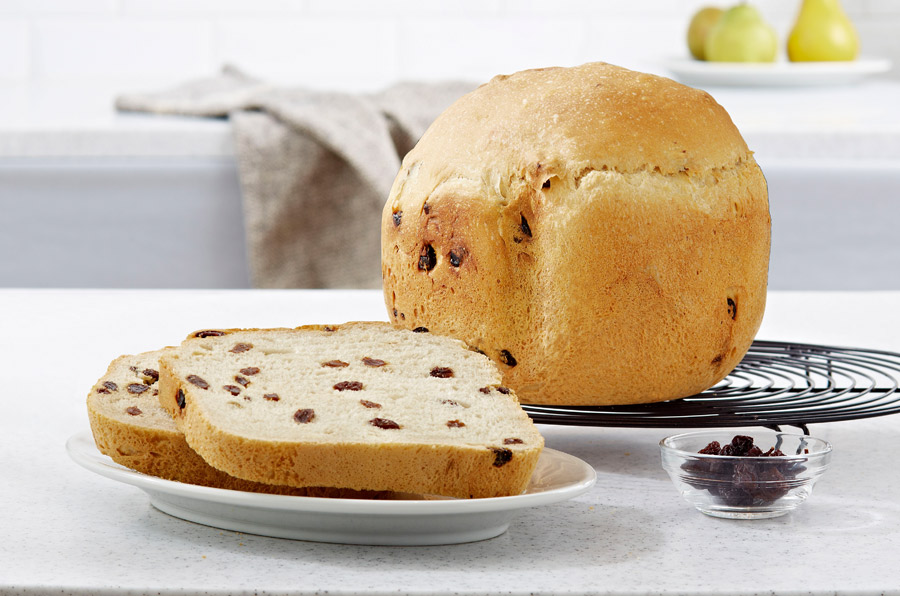 Ingredients
For Soft Raisin Bread
¾

tsp

Dry yeast

400

g

Strong white bread flour

15

g

Butter

1

tsp

Sugar

1

tsp

Salt

280

ml

Water

120

g

Raisins
For Soft Raisin Rapid Bread
1

tsp

Dry yeast

400

g

Strong white bread flour

15

g

Butter

1

tsp

Sugar

1

tsp

Salt

280

ml

Water

120

g

Raisins
Instructions
Open the lid, remove the bread pan and set the kneading blade into the kneading mounting shaft.

Prepare the ingredients with exact measurement according to the recipe.

Place measured ingredients into the bread pan in the top-to-bottom order.

Wipe off any moisture and flour around the bread pan, and return it into the main unit.

For the soft raisin bread select menu 10, and menu 11 for the soft raisin rapid bread, then press start.

When you hear beep sounds, add raisins manually, then press button to restart.

When the bread is ready, press stop and unplug.

Remove the bread immediately by using dry oven gloves and place it on a wire rack.