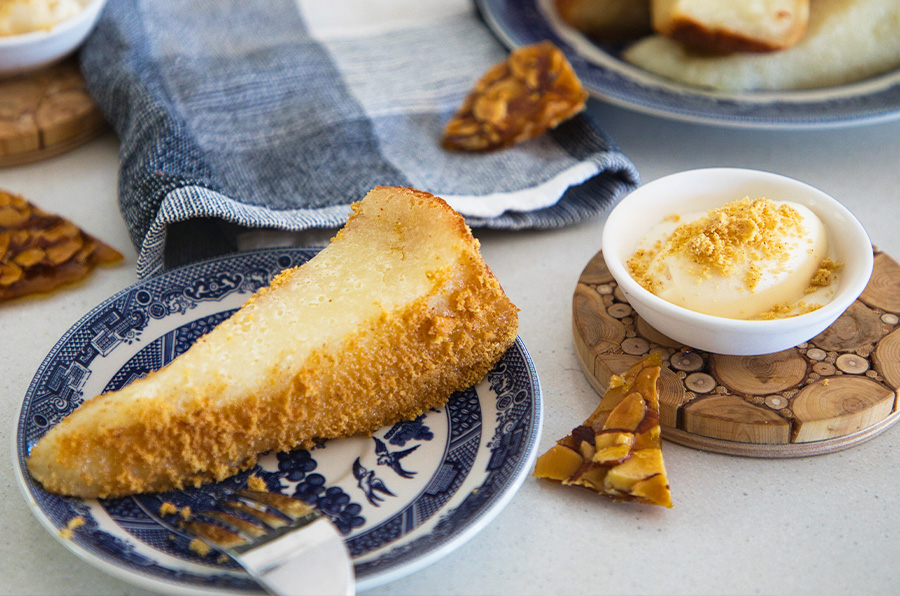 Ingredients
Cassava cake
500

g

grated cassava

130

g

sugar

½

tsp

sea salt

1

tbsp

corn starch

1

tbsp

tapioca starch

½

tsp

vanilla essence

400

ml

Coconut Cream

½

tbsp

of neutral cooking oil
Almond Praline (optional)
50

g

slivered almonds

100

g

sugar

2

tbsp

water

1

tsp

unsalted butter
Instructions
How to make cassava cake:
In a large bowl combine all cassava ingredients except coconut cream and oil. Mix well until well combined.

Add coconut cream and mix well.

Lightly oil the bread pan, pour in cassava cake mixture then place into bread maker and bake (Menu 26) for 1 hour 20 minutes. Duncan's tip: In the meantime start on the almond praline.

Remove bread pan from bread maker and allow to cool for 15 minutes before removing.
How to make almond praline:
Place almonds on a baking sheet and roast in preheated oven (180°C) for 8-10 minutes or until lightly golden then remove and set aside.

In a small saucepan, add sugar and water then over low to medium heat allow the sugar to dissolve then reduce to low and allow the sugar mixture to lightly boil until it turns golden or light copper. Immediately remove from heat.

Duncan's tip: Step 3 can take up to 15-20 minutes. A gentle reminder to be careful when dealing with the sugar mixture or caramel.

Carefully add butter and almonds to the saucepan and mix until almonds are well coated with sugar mixture.

Pour mixture onto baking paper and with a back of a tablespoon, spread evenly to create a thin layer and allow to cool, set and harden.

Break praline into small pieces and place in a food processor and process into a fine dust, then set aside.
How to serve cassava cake:
Slice cassava cake into thin slices and coat both inside layers with a dusting of almond praline.

Serve alongside a scoop of your favourite vanilla ice cream, also dusted with almond praline to enjoy between bites of the cassava cake.