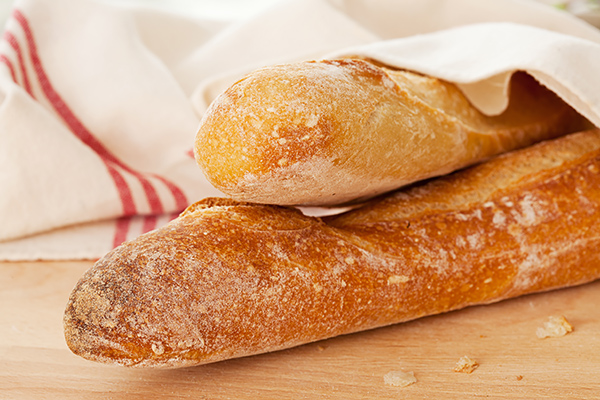 Ingredients
Bread



1

tsp

yeast

240

g

bread flour

1

tsp

salt

5

g

butter

1

tsp

sugar

1

egg

140

ml

water



Glaze

1

egg
Instructions
Put the yeast into the yeast dispenser and add the rest of the ingredients into the bread pan in the order listed. Select the BREAD DOUGH MENU No. 9.

Remove the dough from the bread pan, place into a greased bowl and let it rest for 20 to 30 minutes.

Knead the dough on a lightly-floured surface until elastic and springs back when touched. Divide into 2 pieces, shape each piece into a flat rectangle, roll up tightly, seal the edges well and taper ends.

Place the loaves on a greased baking tray. Using a sharp knife, make 3 or 4 diagonal cuts about 1/2 cm deep across the top of the loaves. Cover them and leave to rise in a warm place at 30 to 35 degrees Celsius for 40 to 50 minutes until almost doubled in size.

Glaze with beaten egg white. Bake in a preheated oven at 200 degrees Celsius for 20 to 30 minutes or until golden brown.
Related recipes