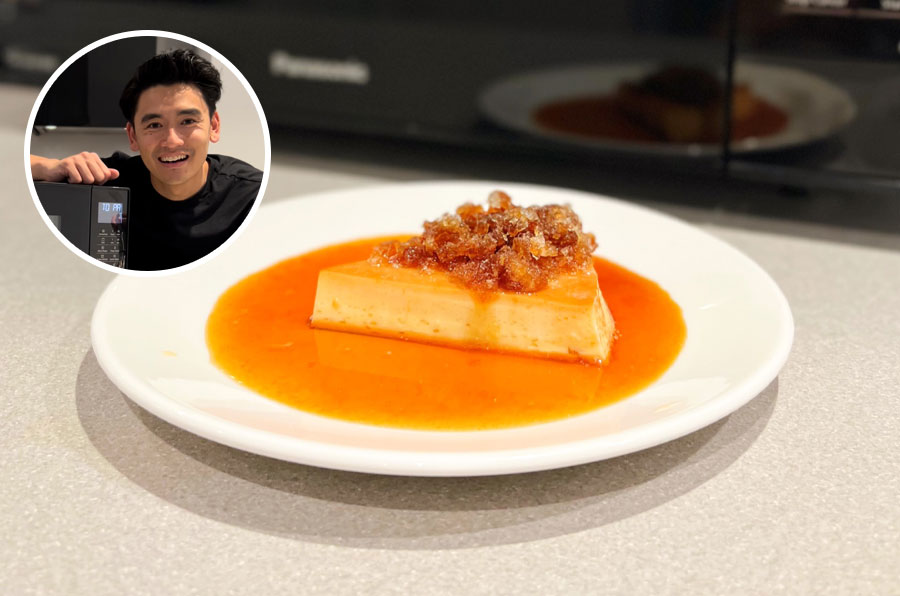 Ingredients
3/4

cup

Caster sugar

60

ml

Water

500

ml

Milk

200

ml

Cream

90

g

Sugar

1

tsp

Vanilla pasta

3

Egg yolks

3

Whole eggs

2

cups

of Long black coffee

1

tbsp

Sugar
Instructions
Preheat microwave oven to 150°C.

Melt ¾ cup of sugar in pan until golden brown, add water and stir vigorously.

Pour caramel into 8-inch cake tin/bowl and swirl to evenly spread.

Add milk, cream, sugar and vanilla paste into a pot, stir to combine.

Place pot on stove on medium, heat up until liquid just bubbles up and sugar has dissolved.

Pour mixture into cake tin.

Place a large tray or bowl into the oven, line it with a tea towel, add the cake tin and pour boiling water into the tray until it reaches about halfway up the cake tin.

Bake at 150°C for 45mins or until the cake just jiggles when you shake it out of the oven.

Place flan into fridge and chill overnight.

Place coffee into a freezer safe container, mix in sugar and freeze overnight.

Next day, cut around the cake tin, place a plate over the tin and carefully flip over, give the flan a good shake and tap to release it and watch the caramel ooze out.

To serve the flan, place onto plate, and add some extra caramel sauce.

Grate the frozen coffee with a fork and place a heaped tablespoon on top of the flan and enjoy!