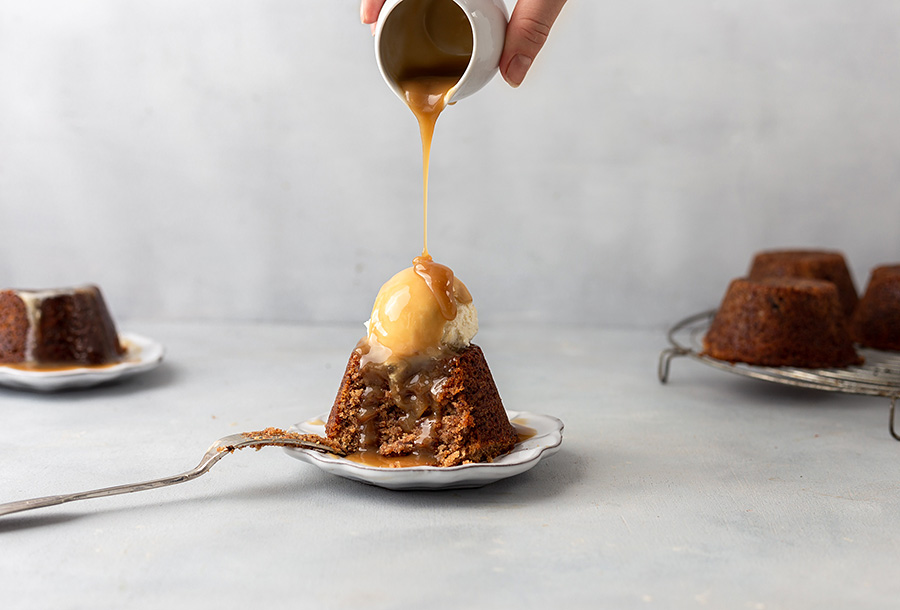 Vegan Sticky Toffee Pudding
2018-12-09 23:23:06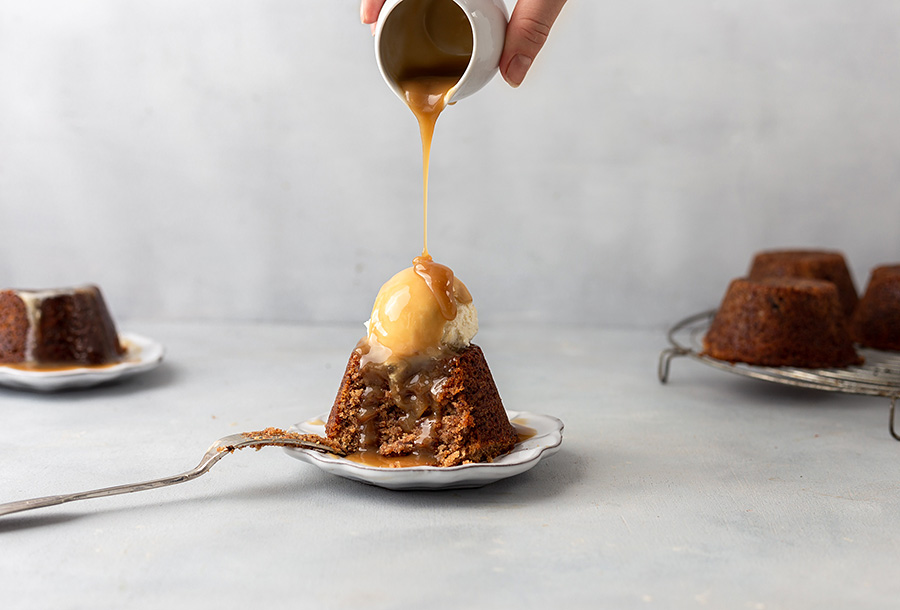 Serves 4
This recipe is by Tamsin Musgrave – find her @CupfulOfKale on Instagram. This decadent sticky toffee pudding is perfect for a festive sweet treat. Serve warm with a quick toffee sauce and ice cream. Notes -Puddings will keep for 2-3 days in an air tight container if you want to make ahead.
Ingredients
200g Pitted Dates
100ml Boiling Water
100g Demerara Sugar (or Light Brown Sugar)
115g Butter
100ml Unsweetened Almond Milk
100ml Rapeseed Oil
1 tsp Bicarbonate of Soda
1/2 tsp Ground Nutmeg
1/2 tsp Ground Ginger
1 tsp Ground Cinnamon
175g Self raising flour


TOFFEE SAUCE
150g Coconut Cream
50g Light Brown Sugar
4 Scoops of Vegan Vanilla Ice Cream
Instructions
Preheat the oven 180C. Lightly grease and line four holes (200ml) of a muffin tray.
In a bowl, place the dates and boiling water and set aside.
In a large bowl, cream the sugar and butter with an electric mixer for about 45 seconds.
Pour in the almond milk and rapeseed oil and stir.
The dates should have softened, use a hand blender to turn into a thick paste. You may want to do it in the sink in case it splashes up.
Add the date mixture to the batter and stir. Then add the spices, bicarbonate of soda and sifted flour.
Fold together with a large spoon. Divide between the 4 muffin holes.
Place in the oven and set the timer for 25 minutes. Check they are done by inserting a skewer, it should come out clean.
In a medium sized bowl, place the coconut cream and brown sugar. Place in the microwave with a cover on and set to high for 6 minutes.
Carefully turn the sticky toffee puddings onto a plate, spoon over some toffee sauce and top with a scoop of ice cream.
The Ideas Kitchen https://www.theideaskitchen.com.au/