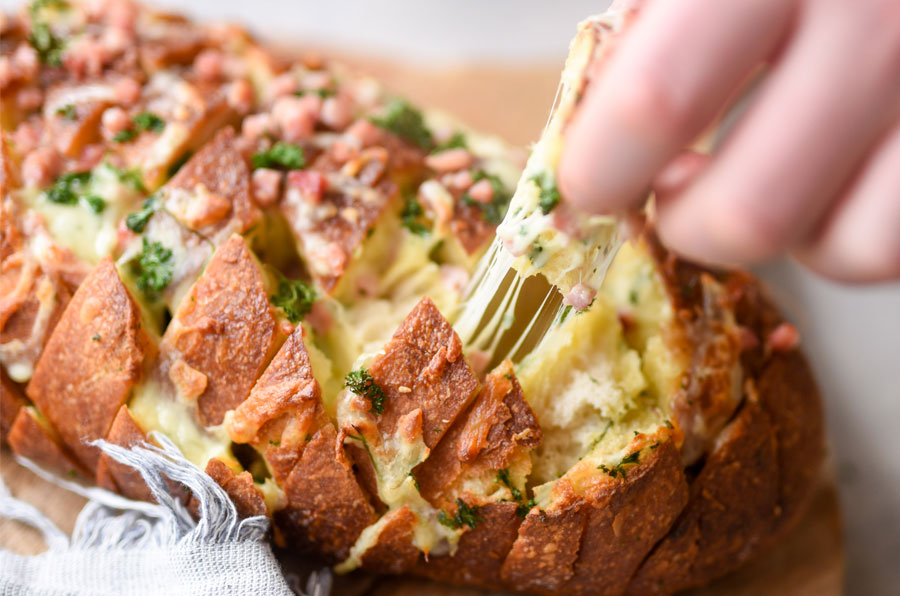 Ingredients
1

white sourdough or pane di casa crusty loaf

1

cup

grated mozarella cheese

100

g

butter

melted

4

cloves

garlic

minced

2

tbsp

fresh parsley

chopped

125

g

bacon

chopped
Instructions
Place the butter in a small heatproof bowl and melt in the Panasonic Combination Microwave for 45 - 60 seconds then add minced garlic + parsley and stir to combine.

Preheat the Panasonic Combination Microwave on Convection 180°C with enamel tray.

Cut the sourdough in a criss cross pattern. Make sure you don't cut right through the bread and ensure an inch is left at the base of the bread .

Open up bread cracks with your fingers. Drizzle a teaspoon of melted butter mixture into each bread crack, then push a small a pinch of cheese and bacon into each crack. Brush the loaf with the remainin butter mixture.

Cover the bread bread with foil and bake for 15 minutes until the cheese is melted and gooey. Unwrap the bread and bake for another 5 or so minutes to make it slightly brown and crusty. Serve.