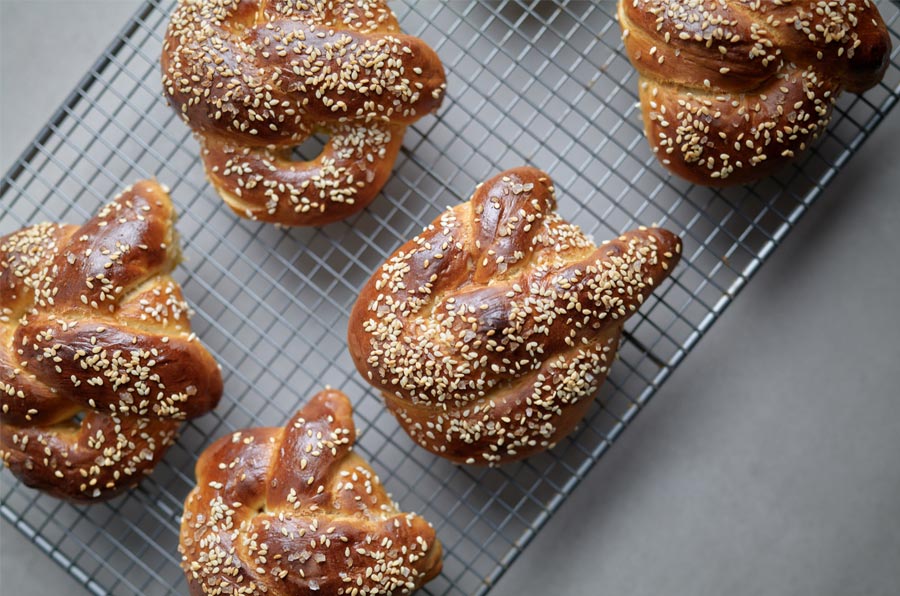 Ingredients
250

ml

milk

warm

30

g

unsalted butter

chopped and softened

7

g

dried active yeast

340

g

bread flour

40

g

brown sugar

1

tsp

salt

70

g

bicarb of soda

1

egg

lightly beaten

1

tbsp

rock salt

2

tbsp

sesame seeds
Instructions
Make sure the blade is inserted into the bread pan. Place the dough ingredients into the bread pan starting with the warm milk and butter, followed by the bread flour, brown sugar, salt and yeast. Place the bread pan into the bread maker and close the lid.

Select program 30 (SD-YR2550) or program 29 (SD-R2530), Manual Bread Kneading and press start.

When the machine beeps 8 times press stop. Select program 31 (SD-YR2550) or program 30 (SD-R2530), Manual Rise and dial in 30 mins, and press start.

Preheat oven to 200°C Convection. Line the enamel tray with non-stick baking paper.

When the machine beeps 8 times, press stop and take the bread pan out of machine. Empty the dough onto a lightly floured surface. Divide the dough into 6 equal portions. Roll each portion into a 80cm rope. To shape the pretzel, form a U-shape with each rope, take the two ends and twist once in the centre and fold the ends down over the look for form the pretzel shape.

In a shallow bowl or tray, dissolve the bicarb of soda in 1 litre of warm water. Gently dip each pretzel into the water mixture and place on the prepared oven tray.

Brush each pretzel with egg and top with rock salt and sesame seeds.

Bake for 15 minutes. Transfer to a wire rack to cool slightly. Best enjoyed warm.